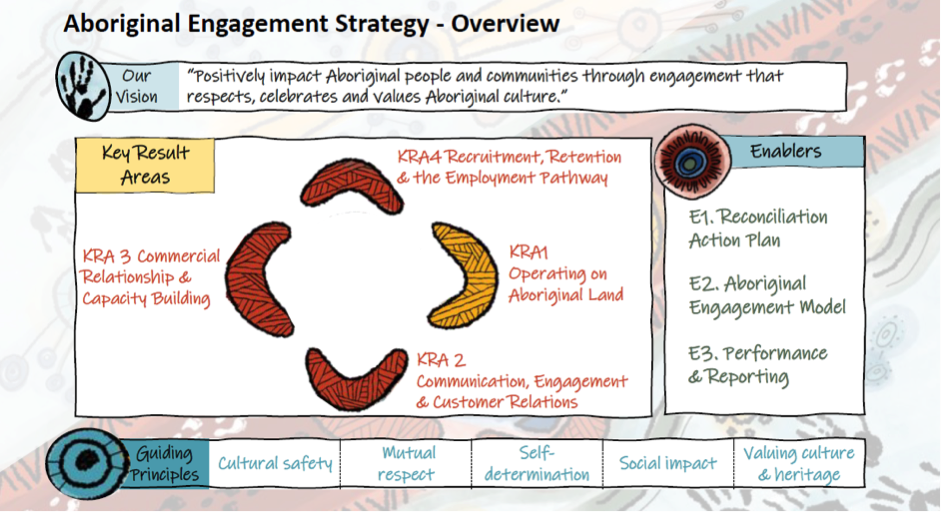 Led by First Nations leaders in the energy sector, the #BetterTogether First Nations Engagement focuses on better engagement and collaboration with First Nations people, in partnership with the water industry.
Last month, Energy Charter signatories and collaborators, along with representatives from the water sector, had the opportunity to learn more about Horizon Power's Aboriginal Engagement Strategy, enabled by the Reconciliation Action Plan (RAP) 2022-24, the Aboriginal engagement model and performance and reporting mechanisms, during a First Nations listening session.
"Horizon Power has the privilege to work, live alongside and provide electricity services to Aboriginal people across our region including remote Western Australia.
Our vision for reconciliation is embedded within our current corporate strategy with an Aboriginal and Torres Strait Islander commitment as one of our four guiding principles.
Aboriginal cultures, histories and participation should be seen, heard, respected and valued as an integral part of our business and we want to have a positive impact on Aboriginal customers, suppliers, employees and communities throughout." – Aaron Matthews, Aboriginal Engagement Officer at Horizon Power
The Aboriginal Engagement Strategy has been designed to progress and embed better practice Aboriginal engagement across the business and focuses on strengthening their commitment to Aboriginal people with targeted initiatives.
Four key results areas across the business include:
Operating on Aboriginal land
Communication, engagement, and customer relations
Commercial relationship and capacity building
Recruitment, retention and the employment pathway
What's authentic? Where do you start? How can we do better?
Guiding principles were unpacked with key questions to help demonstrate how principles could be applied to day-to-day business activities and bring them to life. For example:
Cultural Safety – Are you recognising & respecting Aboriginal people's cultural rights & psychological safety?
Mutual Respect – Are you being honest and authentic?
Self Determination – Have you included Aboriginal voices both during consultation & decision making?
Social Impact – How does this impact Aboriginal people?
Valuing Culture & Heritage – Are you valuing and supporting the protection of Aboriginal culture & heritage?
The Aboriginal Engagement Strategy also aligns with broader national Aboriginal Closing the Gap targets.
To learn more, download the Horizon Power Aboriginal Engagement Strategy – First Nations Engagement information pack
#BetterTogether First Nations Engagement is Led by TasNetworks, Essential Energy, Energy Queensland, SA Water, Transgrid, EWON, Horizon Power and Greater Western Water with other water and energy businesses and advocates.