The #BetterTogether initiatives leverage high impact areas for meaningful change using the architecture of the Energy Charter to deliver better outcomes for customers. They allow signatories, customer representatives and other stakeholders to showcase the good work that they are doing for customers and take them to a new level through collaboration across the energy sector.
To bring the five Energy Charter principles to life, signatories co-design #BetterTogether initiatives through an innovation framework of 'ideate, incubate and accelerate' to build capacity for collaboration across the energy sector. 
Click here for our #BetterTogether innovation framework summary and #BetterTogether FAQ.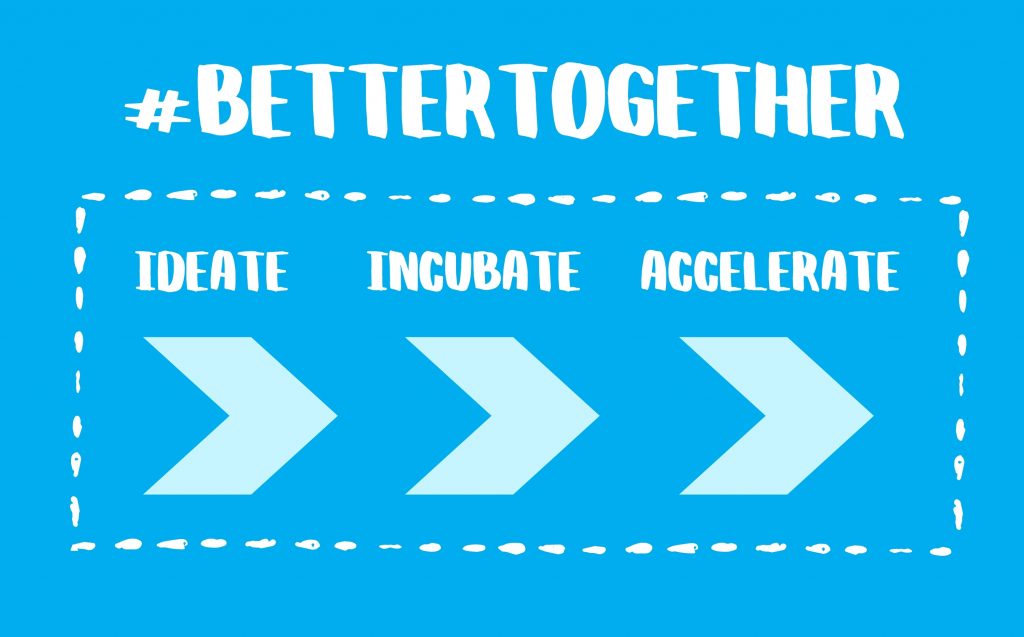 Search #BetterTogether initiatives by clicking on the Energy Charter principles below or scroll down the page.
Principle 1: We will put customers at the centre of our business and the energy system
Led by APA and Essential Energy together with AGIG, Endeavour Energy, Energy Queensland, Jemena, Horizon Power, Powerlink Queensland, TasNetworks and Transgrid consulting with consumer advocates.
Why?
Diverse customer and community voices, heard at all levels within businesses and across the sector, need to shape the expectations of the energy industry.
We are making a difference by…
Driving robust and fit-for-purpose customer, community and stakeholder engagement activities to shape business culture and decision making based on the voice of the customer.
We have:
Developed a Better Practice Toolkit for Customer Engagement
Built a Shared Learning Customer Engagement Platform to highlight better examples of customer and stakeholder engagement across signatories 
Collaborated with consumer advocates on on supporting consumer advocacy in response to the Independent Accountability Panel's  Recommendation 13

Run OPEN HAUS sessions with consumer advocates to showcase and co-design #BetterTogether initiatives

Regularly augmented the

 

Shared Learning Platform

 

to highlight better examples of customer and stakeholder engagement across signatories

 

Finalised a one-pager for internal staff on why it is important for everyone to engage with customers and community

Launched the co-designed Better Practice Consumer Advocacy Support Guide to encourage Energy Charter signatories and others to better support consumer advocacy efforts. 
Principle 2: We will improve energy affordability for customers
Led by EnergyAustralia and supported by AGL, CS Energy, Origin Energy and brokers, consultants and customer representatives.
Why?
Energy brokers and consultants are a key part of the energy supply chain to deliver better customer outcomes. Energy Charter signatories are focused on building more trust in the relationships between brokers, consultants and retailers to achieve better customer outcomes.
We are making a difference by…
Improving outcomes for customers, particularly those in commercial and industrial market by driving a principles-based National Customer Code for Energy Brokers, Consultants and Retailers.
We have:
Launched the final Customer Code for Energy Brokers, Consultants and Retailers, the first of its kind in Australia in February 2021
Established a representative Customer Code Council as a governance framework, with independent chair John Smith
Appointed Sales Assured Limited as an independent administrator of the Customer Code

Reached over 40 signatory energy brokers, consultants and retailers

Hosted a Lunch + Learn sessions to capability build across the sector

Launched the quarterly e-news for the Customer Code signatories

Released a number of checklists and resources for customers
The Customer Code is operational: see our dedicated webpage here.
The National Customer Code for Comparators, Connections Services and Retailers is currently in development.
Why?
A Comparator Code will raise standards of practice, strengthen trust and confidence and deliver better outcomes for customers through commercial comparators.
Over the last 3 months we have:
Recruited over 50 industry and consumer participants for a preliminary discussion about the value of a comparator code
Created a Code Builders group with representation across retailers, comparators and consumers to co-design the Code
Consulted with the ACCC and AEMC
Over the next 3 months we will:
Publish the Comparator Code for stakeholder consultation
Launch the Comparator Code in early 2022.
Principle 3: We will provide energy safely, sustainably and reliably
Led by Powerlink, TransGrid with support from APA and collaborating with National Farmers Federation, NSW Farmers Federation, QLD Farmers Federation, Victorian Farmers Federation, AG Force Qld, the Clean Energy Council, Energy Networks Australia and AEMO.
Why?
There is a need for better engagement between transmission businesses, landowners and communities regarding asset development, particularly in light of AEMO's Integrated System Plan (ISP) and ongoing development of renewable assets in agricultural land areas.
We are making a difference by…
We have:
Over the next 3 months we will:
Engage with landholder representatives on ways to support better community engagement
Explore a national roundtable for agricultural issues
Collaboration between CS Energy, CleanCo, APA, EnergyAustralia and Powerlink Queensland.
Why?
Many of our communities will be impacted by Australia's transition to a lower carbon generation mix. While this may have economic impacts, there are also opportunities for communities to benefit from the transition.
We are making a difference by…
Sharing insights on:
Better practice on engagement with transitioning communities

Case studies from other industries and overseas
Ways to create opportunities and choice for impacted people including employees and contractors
Opportunities for empowering communities through:

Transparently and publicly sharing information about plans to transition their portfolios to a lower carbon future
Connecting host communities to one another, so they can exchange information and learning
Connecting transitioning communities to networks of experience and expertise, both in Australia and internationally
Participating in communities' planning for long term economic and community resilience
Not leaving the most vulnerable behind
Understanding and leveraging the uniqueness of each community/region

Platform for communities to connect and collaborate.
Principle 4: We will improve the customer experience
Led by Jemena, Powershop and ActewAGL with contributors across Energy Charter signatories.
Why?
Empowering customers through clear and accessible communications is an important way to improve customer experience. By leveraging common messages and clear and accessible resources we can improve our customers' and communities' experiences in the energy sector. 
We are making a difference by…
Leveraging common messages, clear and accessible resources through the Energy Charter Communal Content Hub to better improve our customers' and communities' experiences in the energy sector.
We have:
Launched the Energy Charter Communal Content Hub as a central repository for customer facing communications material such as energy efficiency guides and energy literacy
Shared and leveraged Communal Content Hub material across signatories for the benefit of all customers segments. This means not re-inventing wheels for customer communications but using the good work of others to help all customers with a consistent message and create cost efficiencies in the production of content across the supply chain.
We are continuing to update the Communal Content Hub regularly. To see our dedicated webpage click
here
.
Led by AGIG, Essential Energy, Endeavour Energy with support from Ausgrid, Jemena, SA Power Networks, EnergyAustralia and Powershop.
Why?
Disconnections of gas and electricity for non-payment should be a last resort. We want customers to stay connected to their energy and reduce the number of energy disconnections, especially given the ongoing impact of COVID-19 on many in our communities.
We are making a difference by…
Working between networks and retailers to build on a trial by Essential Energy in December 2019 where field crews delivered letters advising customers to contact their retailer in regard to outstanding payments. As a result, 80% of disconnections were cancelled and customers stayed connected to their energy.
We have:
Commenced "Knock before you Disconnect" trial at Multinet Gas Networks (MGN) with Alinta, EnergyAustralia and Powershop
Shared "Knock before you Disconnect" experiences with Endeavour Energy, Essential Energy, Australian Gas Networks, SA Power Networks, Ausgrid and Jemena as these businesses are running similar trials or considering commencing trials.
We are currently working to bring more retailers into the #Knock before you Disconnect" trials and expand them across Energy Charter networks.
Principle 5: We will support customers facing vulnerable circumstances
Led by Ausgrid, Endeavour Energy, Jemena and supported by Essential Energy and Energy Queensland in collaboration with Sydney Alliance (Voices for Power), AGL Energy and Origin Energy.
Why?
44 percent of Australians have low English literacy, including many from CALD communities, therefore customer communications such as energy bills, letters and service updates need to be more accessible to truly address their affordability concerns.
We are making a difference by…
Creating a platform for conversations around energy to increase energy literacy in CALD communities by supporting an innovative energy literacy online 'train the trainer' program run by the Voices for Power project of the Sydney Alliance. The Sydney Alliance is a collaboration of community leaders and institutions from seven CALD communities in Sydney. For more information click here.
Over the last 3 months we have:
Co-designed focus Groups with communities to understand what matters they were looking to address
In late July, online Pilot Training Sessions were held over two days with 11 community leaders from Vietnamese, Spanish, Hindi, Nepali, Urdu, Tongan, Arabic and Chinese speaking backgrounds.
Each session sought to test program training approach and content, learning outcomes, and solicit community leader feedback on any improvements to make training more engaging and relevant for their communities. Training topics included:

Introduction to the Energy System
Saving Energy – Reading Your Bill and Getting the Best Deal
Saving Energy – Energy Saving Tips and Payment Support
Energy Safety

The interactive training program format included verbal and visual presentations, small group discussions, quizzes, story sharing, practical exercises (like bill labelling) and role-plays (including with retailer contact centre staff).
Outcomes were captured through pre-workshop and post-workshop surveys, observations from the training room and small group debriefing discussions.
Roll out of the program will begin in late 2021, with evaluation and next steps in February 2022. 
Led by ActewAGL, supported by AGL, Aurora, EnergyAustralia, Energy Queensland, Horizon Power, Origin Energy and Powershop in collaboration with Thriving Communities Partnership and the Water Services Association of Australia (WSAA).
Why?
Many customers eligible for concessions are either unaware or do not access their benefits and miss out on helpful energy and water bill discounts.
We are making a difference by…
To help support customers in light of COVID-19, Energy Charter retailers are collaborating with partners across sectors, including Thriving Communities Partnership and the water sector, to reach eligible customers and inform them about available concessions, including through reciprocal call centre scripts. Need more info on concessions? Please look at concessions info on Energy Charter retailer websites.
We are now working with the South Australian Council of Social Service in research about concessions across all States and Territories. Stay tuned for the research to be released shortly.