The #BetterTogether initiatives are collaborative initiatives that focus on delivering tangible customer and community outcomes. Using the #BetterTogether innovation framework of 'ideate, incubate and accelerate' they encourage signatories from across the supply chain, customer representatives and other stakeholders to co-design and collaborate with a focus on customers and communities. There are three types of initiatives:
Priority #BetterTogether initiatives: Endorsed by the CEO Council to deliver CEO strategic priorities.
#BetterTogether initiatives: Leverage high impact areas for meaningful change
Community of Practice: Opportunity for collaboration, co-design and knowledge sharing, particularly across parts of the energy sector and/or other sectors.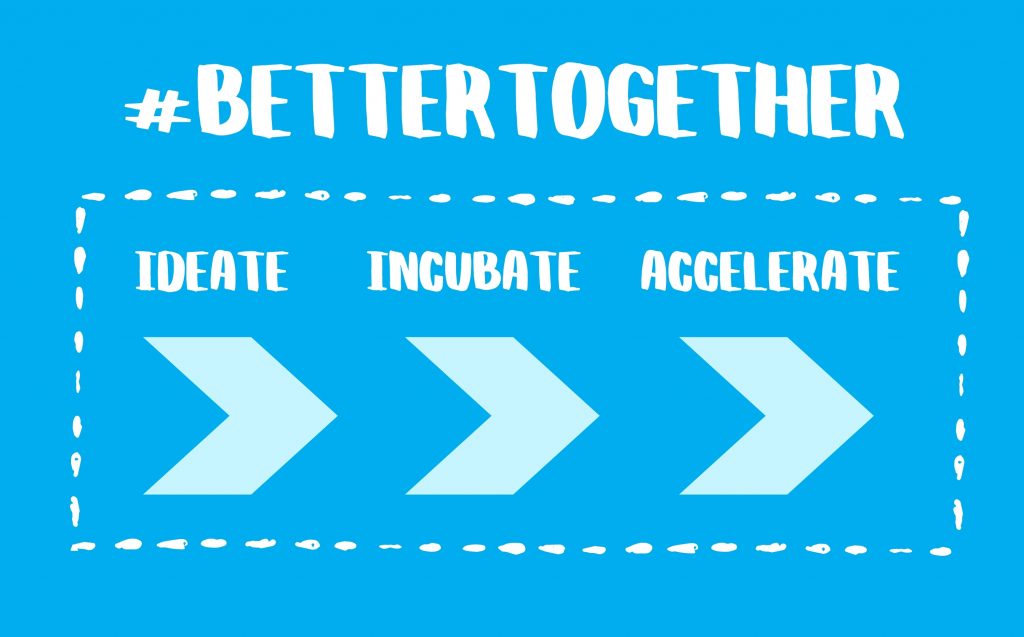 Search #BetterTogether initiatives by clicking on the Energy Charter principles below or scroll down the page.
Principle 1: We will put customers at the centre of our business and the energy system
Overview: Drives robust and fit-for-purpose customer, community and stakeholder engagement activities to shape business culture and decision making based on the voice of the customer – in collaboration with the Water Services Association of Australia under Memo of Understanding.
Collaborators: Led by Essential Energy and Melbourne Water, with participants from AGIG, Endeavour Energy, Energy Queensland, Jemena, Horizon Power, Powerlink Queensland, TasNetworks and Transgrid consulting with consumer advocates and working with water utilities across Australia.
Outcomes: This is an ongoing Community of Practice, and since inception, has developed a range of digital resources supporting Energy Charter signatories to ensure a diverse range of customer and community voices are heard at all levels within businesses and across the sector to shape the expectations of the energy industry. In 2022 the focus of is on 'insights sharing' together with the water sector to support signatories to learn and build capability around knowing their customers and community. April (Barwon Water partners with Birregurra community) and May (Lived experience with TasCollab).
Next steps: June (Indigenous engagement at the Top End), July (Lived experience of renters in the energy/water sectors)
Outputs: Shared Learning Platform   #BetterTogether – Know your Customers and Communities initiative in action #BetterTogether – Collaborating for better customer engagement   #BetterTogether – Supporting Consumer Advocacy Better Practice Customer Engagement Toolkit     Better Practice Consumer Advocacy Support Guide  #BetterTogether
Last updated: June 2022
Overview: Led by First Nations leaders in the energy sector, we are focused on better engagement and collaboration with First Nations people – in collaboration with the Water Services Association of Australia under Memo of Understanding.
Collaborators: Led by TasNetworks, Essential Energy, Energy Queensland, SA Water, Transgrid, EWON, Horizon Power and Greater Western Water with other water and energy businesses and advocates.
Outcomes: First Nations Listening Session (200+ attendees). March ("Aboriginal Engagement Framework" Horizon Power) and May (assessing options for priorities)
Next steps: Currently the First Nations leaders are assessing what are the priorities for this work. This will be shared with the broader participants in July for discussion about next steps.
Last updated: June 2022
Principle 2: We will improve energy affordability for customers
Overview: The Customer Code improves outcomes for customers, particularly those in commercial and industrial markets, by driving a principles-based National Customer Code for Energy Brokers, Consultants and Retailers, with independent Chair and Administrator. The Code is administered by an Independent Administrator and Code Council with independent Chair.
Collaborators: Led by EnergyAustralia and supported by CS Energy, Aurora Energy, Horizon Power, Stanwell together with brokers, consultants and customer representatives.
Outcomes: There are currently 44 energy brokers, consultants and retailer signatories who continue to learn and share through National Customer Code events and resources. In Feb 2022 we will host a Customer Code Roundtable to focus on how we can collaborate to solve customer pain points across industry.
Outputs: National Customer Code for Energy Brokers, Consultants and Retailers Checklist for energy contract procurement  Checklist for large energy users
Last updated: June 2022
Overview: The Customer Code raises the standards of practice, strengthens trust and confidence and delivers better outcomes for residential and small business customers through commercial comparators and moving services, as recommended by the ACCC Retail Electricity Pricing Report 2018.
Collaborators: The Code Builder Group was made up of EnergyAustralia, AGL, Origin, Make it Cheaper, Compare & Connect, MoveMeIn, Direct Connect, Tango Energy, iSelect, Red Energy, Business Australia and the Energy & Water Ombudsman South Australia. Signatories to the Customer Code are currently EnergyAustralia and Make it Cheaper.
Outcomes: The Comparator Code was launched on 1 June 2022 after extensive stakeholder consultation during March-May (including the ACCC and AER). The Comparator Code Council, Independent Chair and Administrator have been appointed and are operational.
Outputs: National Customer Code for Energy Comparators and Moving Services
Last updated: June 2022
Principle 3: We will provide energy safely, sustainably and reliably
Overview: Developing and sharing insights on better practice community empowerment for transition as many of our communities will be impacted by Australia's transition to a lower carbon generation mix. While this may have economic impacts, there are also opportunities for communities to benefit from the transition.
Collaborators: Collaboration with CS Energy, CleanCo, APA, EnergyAustralia, Essential Energy, Powerlink and Stanwell.
Outcomes: February (Forum with Dr Charlie Ogilvie, Director of Strategy for COP26 on behalf or Stonehaven Australia). This #BT has stalled.
Last updated: June 2022
Overview: The Landholder and Community Social Licence Priority #BT will deliver:
Practical guidelines for co-existence between transmission infrastructure and agriculture to mitigate negative impacts and prioritise shared value through the energy transition
Bi-annual strategic roundtable with leaders from the energy and agriculture sectors to discuss strategic emerging issues in the energy transition, identify what's working and areas for continuous improvement
Collaborators: Transmission networks, distributors, agricultural sector representatives, AEMO and other market bodies and Government.

Outcomes: Launch of the Better Practice Guide to Landholder and Community Engagement. Engagement with the AEMC regarding the Transmission Planning and Investment Review.
Outputs: Landowner and Community Engagement #BetterTogether – Improving engagement with regional landowners for shared outcomes
Next steps: Social licence research to improve engagement and outcomes for agricultural landowners affected or proposed to be affected by energy transmission infrastructure. The research firm will develop Guidelines to:
Provide a clear (plain English) understanding of the potential practical impacts that energy transmission infrastructure may have on agricultural operations
Identify potential benefits of co-existence
Identify practical modifications and mitigations that could be considered, by both agricultural operators and transmission infrastructure, to minimise potential impacts
Identify potential opportunities to improve co-existence outcomes, to dually support sustainable agricultural production and transmission planning and operation.
The research will guide the individual and collective response of the energy sector and insights will be translated into practical actions and outcomes on the ground.
Proposed bi-annual strategic roundtable with leaders from the energy and agriculture sectors to discuss strategic emerging issues, identify what's working and areas for continuous improvement. This would include market bodies such as AEMO, AER, AEMC and other key entities.
Last updated: June 2022
Principle 4: We will improve the customer experience
Overview: Customer Code of Conduct that builds on existing #BT pilots for electricity and gas customers facing disconnection across a number of jurisdictions (NSW, QLD, SA, VIC) by:
Highlighting clear commitments to customers
Agreeing better practice guidelines on how to implement Knock before you Disconnect
Seeking consistency of B2B processes to streamline retailer/network engagement
Measuring customer and industry impacts and outcomes
Implementing independent governance mechanisms to foster ongoing community of organisations and customer representatives to share better practice on an ongoing basis.
Collaborators:  Retailers, distributors and consumer advocates.

Desired Outcomes:

Trials prove that up to 80% of electricity disconnections can be avoided.

Publicly highlight strong commitments to customers and leverage collective energy sector action.

Streamline B2B processes between retailers and distributors.

Share better practice resources.

Work collaboratively with stakeholders and customer representatives.

Industry led.
History: Essential Energy trialled pre-COVID-19 and is now BAU, Endeavour Energy continue to trial into 2022, AGIG (gas) trialled during 2021 with interruptions due to COVID-19 and will review processes in 2022. SA Power Networks trialled in 2018/19 and is now implementing through a Vulnerable Customer Strategy in Q1 2022. Ausgrid, Jemena and Aurora Energy are currently assessing a trial. This #BT has growing interest from regulators and community organisations. Signatories are currently sharing approaches across the industry including resources such as training and scripts for field staff, letters to customers and internal process maps to support a potential broader roll out of the program and to chart how collectively, learnings could be captured and shared broadly.
Learn More: #BetterTogether – Networks and retailers working together to ensure customers stay connected  #BetterTogether
Last updated: June 2022
Overview: This #BT leverages common messages, clear and accessible resources through the Energy Charter Communal Content Hub to better improve our customers and communities.
Collaborators:  Led by Jemena and Powershop, supported by ActewAGL, Essential Energy and WA Energy Department.
Outcomes: Continued development of the online resource library featuring customer and community facing communications and links to useful information on a range of topics about energy.
Outputs: Energy Charter Communal Content Hub
Last updated: June 2022
Overview: Supporting customers before, during and after a disaster event by co-designing a 'Disaster Response Playbook' for the energy sector with clearly defined roles, processes and use of emergency response agency information. This will enable a more coordinated and process driven approach to customer support during this time. The playbook will help inform what type of information needs to be shared with who and in what time frame. It draws on disaster research conducted by Thriving Communities Partnership in the Townsville floods.
Collaborators: Led by Ausgrid in collaboration with AGIG, Energy Queensland, Powershop, Endeavour and Essential Energy.
Next steps: Co-design a Disaster Response Playbook in the form of a framework with shared language to plan coordinated processes to support customers before, during and after a disaster event from Dec 21 to Feb 22. Due mid-year.
Learn more: Thriving Communities Partnership Disaster Planning and Recovery Research
Last updated: June 2022
Principle 5: We will support customers facing vulnerable circumstances
Overview: Empowers CALD community leaders to support others to take control of their energy concerns, adopt simple energy safety practices, and negotiate a better deal on their power bills.
Collaborators:  Led by AGL, Ausgrid, Endeavour Energy, Jemena and Origin Energy in collaboration with Sydney Alliance (Voices for Power).
Outcomes: Following the completion of the project's 'co-design' stage, which involved numerous energy and community partner workshops and the development of a suite of community training materials, the Voices for Power 'Train-the-Trainer' Program is now in its 'pilot delivery' stage.
Next steps: Phase 2 of the program will be rolled out in 2022 with supporters from Ausgrid, Endeavour and Jemena.
Learn More: #BetterTogether – Collaborating to support energy literacy for culturally and linguistically diverse (CALD) customers   #BetterTogether
Last updated: June 2022
Overview: Facilitates Energy Charter collaboration with partners across sectors, including Thriving Communities Partnership and the water sector, to reach eligible customers and inform them about available concessions including through reciprocal call centre scripts.
Collaborators:  Led by ActewAGL, supported by AGL, Aurora, EnergyAustralia, Energy Queensland, Horizon Power, Origin Energy and Powershop in collaboration with Thriving Communities Partnership and the Water Services Association of Australia (WSAA).
Outcomes: In addition to the cross-sector collaboration activity to ensure eligible customers are made aware of concessions or to assist them in accessing their benefits, this #BT is working with SACOSS in research about concessions across all States and Territories. Preliminary data analysis has been completed; the final wave of research has been delayed due to COVID-19. Awaiting release of research (expected Q2 2022).
Last updated: June 2022
Overview: Better support for life support customers based on the recommendations of the Australian Energy Foundation on better support for Life Support Customers funded by Energy Consumers Australia.
Collaborators: Led by AGIG and SA Power Networks, with support from Ausgrid, Essential Energy, Endeavour Energy, EnergyAustralia, AGL, TasNetworks and Aurora Energy.
Outcomes: To better prioritise life support customer care, we have set up a Life Support Expert Advisory Panel (LMAG)with the Australian Medical Association, the Royal Australian College of General Practitioners and the Royal Australasian College of Physicians on how life support status is determined and administered. Collaboration with the water sector to understand incident management and vulnerable customer prioritisation. Two meetings of the LMAG have occurred (April and May) with positive progress.
Last updated: June 2022