Preparing networks for extreme weather to keep customers and communities safe
After three years of La Niña rains suppressed bushfire activity, this spring and summer may be the most active fire season in four years. What does it mean to prepare well, and what have we learnt from previous bushfire responses?
In the November Resilience Community of Practice, we heard from Paul Erwin, Head of Customer Service at SA Power Networks regarding the work SA Power Networks (SAPN) is doing to prepare for the season ahead, including working with critical partners like the SA Country Fire Service.
The impacts of extreme weather on communities + energy networks
When it comes to extreme weather, energy network providers need to prepare for a range of scenarios to ensure customers and communities stay safe and connected to power.
Paul explains that there are various scenarios that need to be considered, especially when the hotter months are among us. Some of these extreme weather events include:
Extended heatwaves with hot nights result in high levels of energy demand and equipment gets little chance to cool
Bushfires that can cause significant damage and outages
Lightning strikes impact infrastructure and cause outages
High winds can bring down trees and tree limbs or propel airborne debris and cause significant damage.
These impacts are common challenges faced by all energy providers. Paul goes on the explain that,
"[Networks] can be damaged by a fire, it can be damaged by smoke from a fire that can trip it off and it's vulnerable during storms to the impact of things like trees or wind blowing debris and other impacts like lightning strikes during a storm.
So, for those of you that are network providers, this is nothing unusual to you, but it's something that's important that you can relate in your communications to customers about why they're experiencing a number of outages that they may experience throughout their lifetime connected to the network."
Preparing for extreme weather conditions, including bushfire season, is critical to ensure customers, communities and equipment all stay safe.
Proactive measures and planning for extreme weather
At SAPN, Paul explains the sophisticated approach they take to minimising risks to customers and equipment, as well as the steps in preparing for the impacts of extreme weather events including bushfires and storms.
"We have what we believe is a sophisticated approach to minimising those risks to the best that we possibly can. Understanding we're still going to bear some of those problems; we prepare for summer and extreme weather events well and truly in advance."
SAPN use various tools and methods, such as daily monitoring of weather, twice-weekly briefings with meteorologists, and specific response levels (Fire Danger Level, Emergency Response Level and Minimum State Demand) to manage and mitigate potential risks.
The 'weather and network impacts monitoring workflow' below illustrates the extensive planning, communication and response in the case of an extreme event.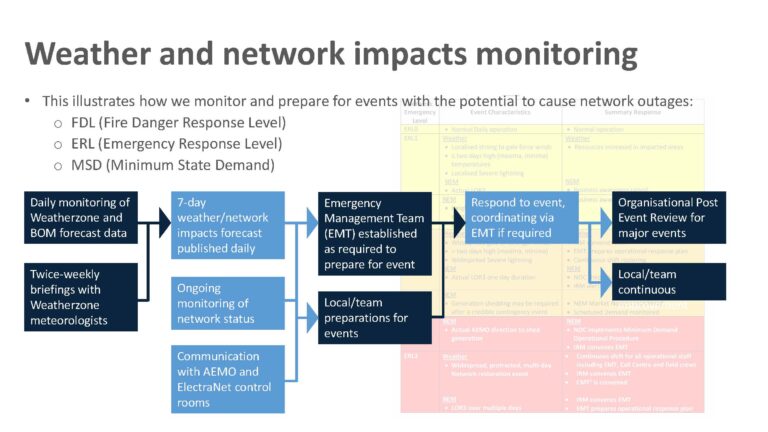 Bushfire seasonal preparations
When it comes to having an electricity network that's primarily above ground, careful consideration is essential to minimise risks of the equipment starting fires.
Paul explains that when the bushfire season does start, asset inspectors continually assess the asset and look at whether there needs to be greater attention brought to certain areas. This includes the use of drones, helicopters and ground patrols.
We also heard the additional extensive bushfire seasonal preparation that SAPN completes ahead of the season, including:
Rectifying any identified bushfire and supply risk defects and ensuring key network projects completed prior to summer
Tree trimming
Training operational personnel/emergency management exercises
Ensuring emergency spare parts in stock
Preparing call centre and social media messaging
Writing to Life Support Customers, MP's.
Emergency disconnections during bushfire season
When conditions are deteriorating and not looking to improve, in severe cases, emergency disconnections may be required. Paul explained the degree to which SAPN go to on a fire danger day in getting ready to proactively conduct an emergency disconnection to keep communities safe.
This response follows a Disconnection Procedure Flowchart (pictured below), where Paul explained the steps that are followed, including:
Continually assessing and monitoring reports, network activity, damage reports, weather reports and more
If a situation is verified to the appropriate Fire Danger Level which requires disconnection, a specialist group is formed called the Disconnection Order Group
The Disconnection Order group has various different components across the business, all the way from where Paul sits, in the customer and community space, through to network field services, logistics and more
They report directly to an Operations Director where they will make a recommendation after discussing with the CFS whether to disconnect and then seek authorised approval. This approval must come from SAPN's CEO.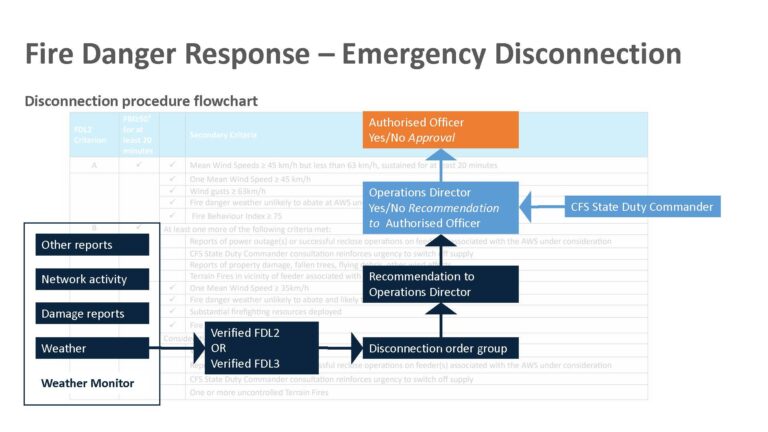 Keeping the community informed at every stage
SAPN engages in proactive communication with customers when forecasts indicate significant Emergency Response Level or Fire Danger Level conditions. This includes reaching out to Life Support Customers, MPs, nursing homes and other major customers, to inform them of preparations for extreme weather events.
Paul went on to explain that social media is a critical platform to spread messages during events, especially since the statewide blackout South Australia experienced in 2016. During this event, they saw an increase in Facebook followers who helped share posts and pictures. Social media continues to remain engaging with their community since.
They also utilise SMS as Paul explains "We've got automated systems that just immediately send out SMS messages to customers soon as we know a part of the network is off, either that we can see it remotely or that customers call us about it."
This two-way communication with their customers is essential to see a full picture of what's happening on the ground and let their customers that they are listening and acting to ensure they remain safe.
In major events, SAPN deliver targeted, bespoke messaging to localised groups of customers regarding restoration times.
During bushfires, communications can be quite different to usual. Paul states that, "we sort of broke that up where we twice a day we'll go out to customers in the middle of the day at the end of the day to say this is how far we've got with our reconnections and your area is coming up next in the following day and again that that gathers kudos from customers."
Paul highlights the importance of communicating to customers and communities, stating that "We do as much as we can to make sure that we are preparing and informing the community [about] what we're doing to prepare … and advising them on what they need to do when there is a bushfire."
About the speaker
Head of Customer Service at SA Power Networks, Paul Erwin has three decades of experience in the energy sector and wealth of knowledge on driving better customer outcomes in the energy sector.
He's a seasoned member of SAPNs emergency response team, having been involved in numerous incident responses, including for bushfires, floods events and severe storms. Paul is passionate about better protections for customers in vulnerable circumstances and ensuring businesses put their efforts toward the actions that matter most to customers.
In his time at SAPN, Paul has managed teams across customer, community and retailer relations. He also has an M.B.A and Graduate Certificate in Business Administration from the University of South Australia, and is Graduate of the University of Adelaide's Professional Management program.
About this event
This event is part of the Energy Charter's Resilience Community of Practice dedicated to helping customers and communities better prepare, respond and recover from disaster events.
Every second month, the Energy Charter host a Community of Practice, including expert-led discussions building on the topics covered in the Energy Charter's Disaster Response Playbook. Learn more about the Resilience Community of Practice.