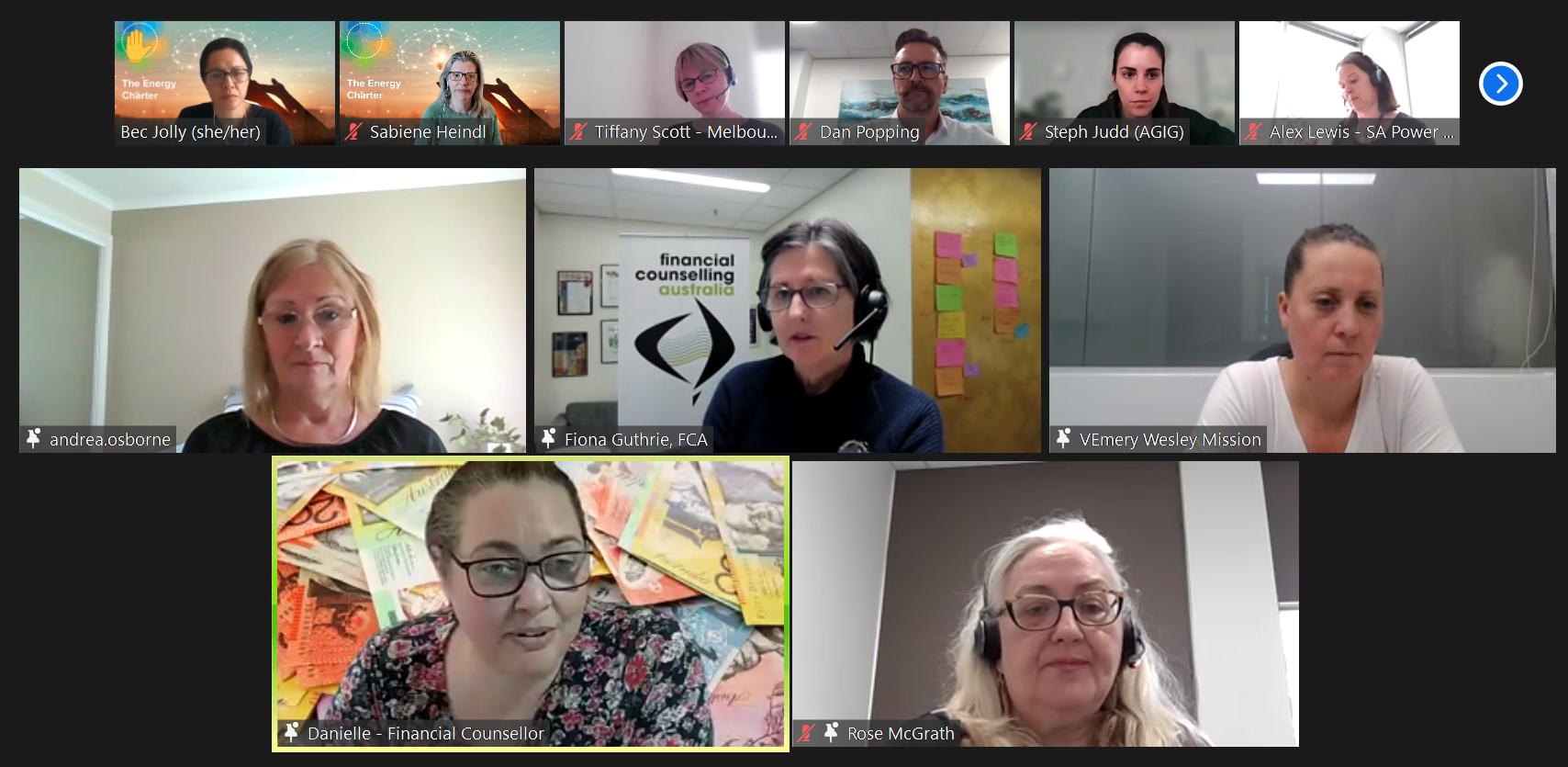 Firsthand insights into the cost-of-living crisis with Financial Counselling Australia (FCA)
Leading the discussion was Fiona Guthrie, the CEO of Financial Counselling Australia (FCA), the national voice for the financial counselling profession in Australia.
To gain insights into cost-of-living crisis across the country, the panelists included:
From NSW: Vanessa Emergy, Financial Counsellor and Team Leader at Wesley Mission NSW, who represents FCA on the Australian Energy Regulator Consumer Consultative Group
From QLD: Rose McGrath, Financial Counsellor at YFS QLD
From Tasmania: Danielle Slade, Financial Counsellor at Anglicare TAS and President of the Financial Counsellors Association Tasmania
From Victoria: Andrea Osborne, Financial Counsellor at Uniting VIC as well as participates in the Utilities Working Group for FCA.
What does a Financial Counsellor do?
Financial counselling is a free service run by not-for-profits, offering information, options and support in regard to debts.
One of the key benefits of a financial counsellor is they can provide information on benefits, concessions and entitlements including "concessions regarding energy, which is particularly important these days because a lot of people don't know what they're entitled to."
A lot of financial counsellors are also trained in counselling and can offer emotional support.
"We provide information so customers can make informed choices and decisions and have ownership of their own situation. We don't want to be telling them what they have to do, we want to give them the information so they can make decisions for themselves. It's really important that they have control of their situation."
To learn more, watch the short video where Andrea Osborne explains the wide range of services a financial counsellor can provide.
What are customers experiencing when it comes to energy and water costs?
Taking the time to listen to what financial counsellors are learning from their casework can offer valuable insight into the financial challenges people are facing. Below, the panel explores what they're seeing firsthand when it comes to why customers are not able to pay their energy and water bills.
The gap between energy and other life essentials
Danielle Slade, who works for the National Debt Helpline 5 days a week, explains that "the biggest thing we've seen is extraordinarily large debts," where in some cases, people can barely cover their current usage let alone also contribute towards old energy bills.
Danielle continued on to provide insight into the essentials that help create a comfortable life, including:
Rent or housing
Food
Transport
Medications
Telecommunications
Power
"I say power last because [in the eyes of the customer], that's the only bill this fortnight that I can skip if I just don't have enough money. If I don't pay my rent, I get evicted. I have to eat. I can't walk my children to school if it takes us 2 hours to get there. I can't not take medication. So, the only thing that's left that I can skip this fortnight is power. So, a lot of people leave it to that 3 month bill and then we get a debt that's just so unmanageable."
The link to housing and water costs
There has also been recent casework where customers are struggling to pay their water bills.
Rose McGrath explained, "For renters, they pay the landlords directly. They don't have a direct billing relationship with the water company or with the council. So, water arrears are very much tied up with rent arrears and because rents have increased so much, people are really struggling to pay their water and rent. As a result, partly, they are being evicted for non-payment of their water."
Rose goes on to explain that in some cases, there is such high demand for rental subsidies and rental arrears, it takes up to 2 months for people to receive them where they can be evicted within that time.
"With water, there are no hardship provisions like there is in energy. There is no hardship framework and there's no concessions for renters."
What can the energy sector do to help with the cost-of-living crunch?
When it comes to supporting customers with their energy and water bills, the panel provided insight into what's currently working and what could be improved to help customers regain control of their financial situation.
Continue educating customers on ways to reduce their power bills, where Andrea mentions that once customers are given this information, "12-24 months down the track, we had observed their energy bills and they dropped hundreds [of dollars]. Just a bit of information and they were able to change their ways and reduce their bills."
Continue energy audits for vulnerable customers as well as further to current government initiatives, there could be potential to replace faulty appliances causing higher energy bills.
More reference to the National Debt Helpline to ensure customers know where to go for financial help (for example, as shown in the Keep the money. It's yours. National concessions campaign).
Matched payments, where possible, as Danielle explained that customers start to think "the energy provider is going to help me pay off my debt?" which helps to shift the mentality to 'we're in this together' (acknowledging this may not be the case for all retailers).
Potential to introduce debt waivers, including an automatic debt waiver when there's family violence.
About this event 
This event was part of the Know Your Customers + Communities – Community of Practice dedicated to building capability around robust and fit-for-purpose customer, community, and stakeholder engagement, and building organisational cultures that value the customer voice in decision making. 
Know Your Customers + Communities is a collaboration with between the Energy Charter and Water Services Association of Australia under our Collaboration Memo of Understanding (MoU). 
To become a regular member of this Community of Practice, please contact Bec Jolly, Director Collaboration  bec.jolly@theenergycharter.com.au.