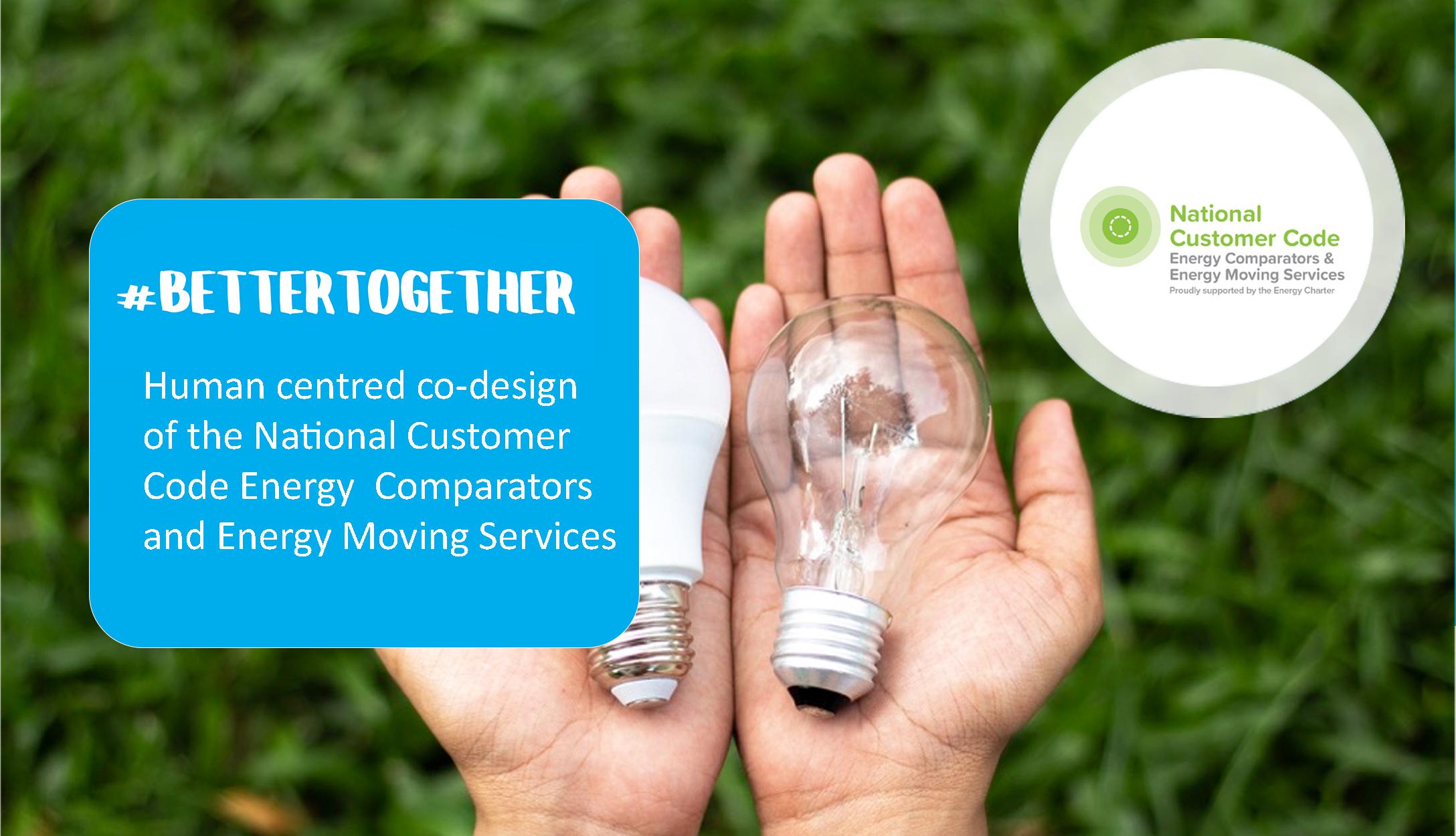 The importance of developing a rich understanding of customer experiences was central to successfully human-centred co-designing and launching the recent National Customer Code Energy Comparators and Energy Moving Services (the Customer Code), a #BetterTogether initiative of the Energy Charter.
"Developing a co-design process to engage a broad range of stakeholders with the right result required a thorough and considered approach. It began by outlining the problem we aimed to solve, scoping the relevant stakeholders, including industry representatives and customer advocates, and working with experienced human-centred design facilitators." – Anne Whitehouse, CEO of Sales Assured and Administrator of the Customer Code.
The intention of the Customer Code was to address some of the concerns about third party intermediaries' selling practices raised in the Australian Competition and Consumer Commission (ACCC) Retail Electricity Pricing Inquiry Report 2018 (the REPI Report) with a view to pragmatic industry-led solutions.  
Initial discussions were held with ACCC, Australian Energy Market Commission and Australian Energy Regulator to share the plan for the Customer Code development. To gauge support and build momentum, an initial stakeholder forum was held in August 2021, facilitated by design-thinking expert, Dewang Bhargav of Energy Queensland. The focus of the workshop was to build an understanding of the energy comparator and moving service market experience for customers: what was working, what wasn't and areas for industry-led improvements.
From here, a representative Code Builders group was formed who met fortnightly until November 2021 to develop the Customer Code. Participants included customer representatives, third-party comparators and moving services and energy retailers. These were stimulating discussions as the Code Builders challenged themselves to look at ways to meet some of the matters in the REPI Report with a human-centred design approach. This meant developing solutions to customer problems by involving the human perspective in all steps of the problem-solving process. The strong commitment to delivering tangible customer outcomes was evident throughout.
Once the Customer Code draft was finalised, it was circulated stakeholders for their feedback. An open-invitation forum was also held in April 2022. Thoughtful responses from ACCC, the Consumer Policy Research Centre and Public Interest Advocacy Centre helped to strengthen the Customer Code.
The Customer Code has a strong governance framework, including a Customer Code Council (CCC) to provide strategic direction and support to the Code Administrator, Anne Whitehouse. The CCC was an open application process and many of the Code Builders joined the CCC under Independent Chair, John Smith.
The Customer Code for Energy Comparators & Moving Services launched in June 2022. Its success will depend on the level of industry participation and the commitment of the signatories to the Customer Code principles. It is importantly backed by energy retailers and other suppliers who choose to join as Supporters.
A special thanks to the people who made this happen: