Compelling narratives to showcase the power of resilience in action
In September, the Resilience Community of Practice explored how forward-thinking organisations:
Proactively prepare for disruptive events
The challenges of around real disruptions and how they can be overcome
The critical role that resilience and preparedness play in mitigating customer impacts.
Speaker Fiona Dunk, Group Manager, Business Resilience for Signatory Jemena unravelled the compelling narratives to showcase the power of resilience in action.
As a starting point, Fiona pointed to the preparedness as the foundation of proactive Resilience noting that,
"In the face of uncertainty, preparedness is the compass that guides us through the storm."
She highlighted that preparing well is the ability to recognise precedence, have strong situational awareness and foresight,
"We can't rely on the playbook from last year – we need to prepare for this year."
Preparedness is also about never loosing site of the opportunity to capture and implement lessons learnt. Every disruptive event offers an opportunity to learn and improve.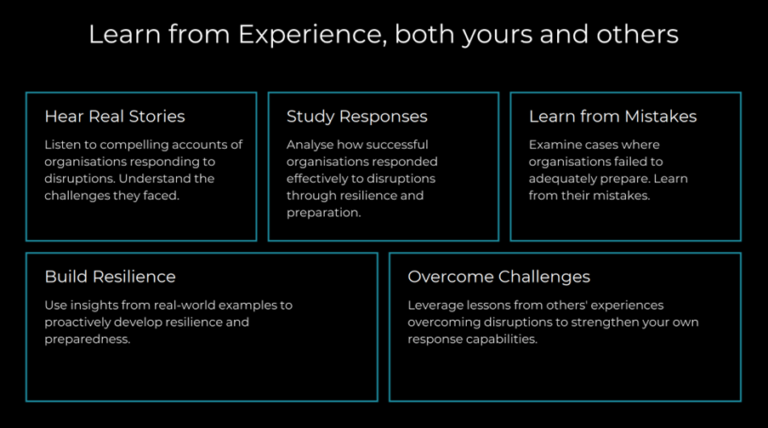 Regardless of the type of disruption, Fiona encourages a focus on community-centred resilience to achieve better outcomes for those impacted.
In simple terms, this means:
Providing empathetic and proactive customer service during disruptions to maintain trust
Rallying communities to support each other to minimise hardship during disruptions
Prioritise the needs of vulnerable customers during disruptions through outreach and assistance.
Part of this respecting and empowering your connections,
"Communities have vast resources and capacity to empower their people and respond to emergencies when you enable collective action. Provide the space and respect local partners."
Key takeaways
Preparedness is the foundation
Disruptions are inevitable
Community-centric focus matters
Learn lessons for the future
We are always, #BetterTogether.


Participant reflections
Following the presentation participants reflected on the below question and encouraged others to do the same with colleagues:
Where are you getting your foresight for this year's risks and what are you putting in place to share and prepare?
Supporting responder mental health through disaster is essential, how are you preparing to manage fatigue in teams, especially considering cumulative and compounding events are becoming more frequent?
Coming into a potentially very difficult year weather-wise, how are you working with your Board and Leadership to drive Resilience outcomes now. What do you have in place to track customer and community outcomes?
What do your simulations/preparedness events look like and how can you bring in other parties to ensure preparedness at a collaborative level?
In the context of resilience, what do you do in practice to create psychologically safe spaces for teams and communities?
How do you hear from communities on what they need from you? How are you brining these voices into your decision making now and in-disaster? 
About our speaker
Fiona Dunk has more than 30 years of experience in Crisis & Emergency Management, Security and Resilience most recently as the Group Manager, Business Resilience for Jemena.
Fiona holds a Masters Degree in Business Technology from the University of New South Wales and has held roles in the Royal Australian Navy, Marine Safety Management, Port Emergency & Security Management, Crisis/Emergency management Consultancy and Project Management. 
About this event
This event is part of the Energy Charter's Resilience Community of Practice dedicated to helping customers and communities better prepare, respond and recover from disaster events. 
Every second month, the Energy Charter host a Community of Practice, including expert-led discussions building on the topics covered in the Energy Charter's Disaster Response Playbook:
Communication and Education –

 where do communities get information, how is it delivered and who needs to know? This includes sharing learnings on successful communication and education campaigns as an essential aspect of disaster preparedness, response and recovery.

Coordination and Collaboration –

 what are the opportunities to better work together across the energy sector and within the broader eco-system? This includes better practice case studies on successful collaboration.

Planning and Preparedness –

 what is our role in building community and individual capacity to plan and prepare for a disaster? This includes opportunities to build resilience ownership and literacy within communities, so they can better respond in a disaster.

Learning loops –

 It's essential to share back to enable continuous improvement. This includes sharing insights from recent disaster events and building a resilience learning library.
Learn more on the dedicated Resilience Community of Practice page
here
.