An essential connection to services and assistance

The Energy Charter's Disaster Response Playbook recognises that following a disaster event, utility service providers are often a first point of contact for people as they provide an essential service for recovery.
They are an important part of the disaster response and recovery ecosystem as a 'connector' to other services and assistance. However, sometimes staff:
Lack the training and feel unprepared to support customers and peers who have experienced trauma, which can have negative impacts for mental health and wellbeing of both parties.
Are unclear on what the scope of their role is when responding to a disaster (i.e., when to refer to another service) which leaves them trying to 'do it all'.
Experience personal trauma as a result the disaster, while also playing professional role in disaster response and recovery activities.
In our July Resilience Community of Practice, Alexandra Howard, Director, Disasters and Public Health Emergencies at Phoenix Australia offered strategies to help staff better recognise and respond to trauma in disaster impacted communities.
Here's our key takeaways from Alex's session
Disaster impacts are multi-faceted with impacts across multiple areas.
Within the essential services sector, we can often be focused on responding to build environment and economic/financial impacts. However, whether we know it or not, most of us in the disaster eco-system, also have a role in human phyco-social impacts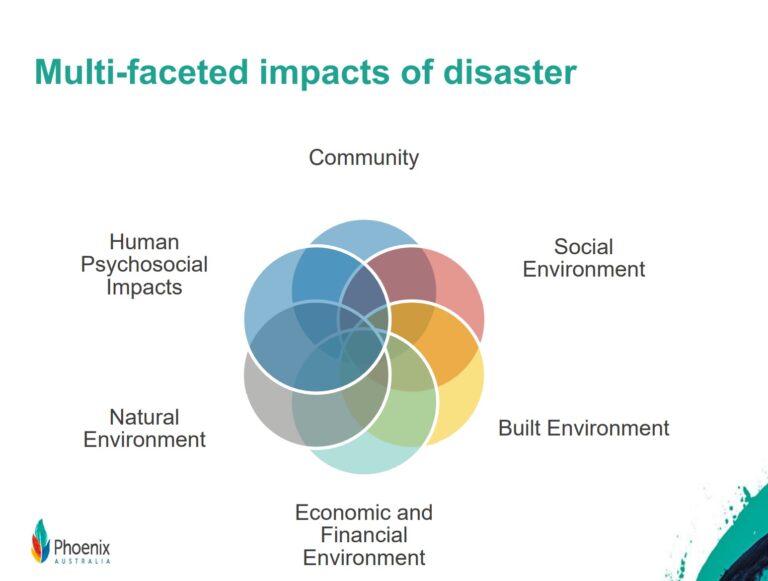 Image: "Multi-faceted impacts of disaster", Pheonix Australia presentation
Acknowledging this, it can be helpful to apply a 'trauma lens' to all of the disaster preparedness, response, and recovery activities we undertake.
This is not about making everyone a counsellor or psychologist, rather the purpose is to help us to set boundaries and act within our skill set, taking a 'no harm' approach.
There are four common reactions to trauma and each can play out in several ways:
Changes in mental or cognitive capacity
Physiological or bodily changes
Changes in behaviour
Emotional changes.
All of these reactions are linked to our "Fight, Flight and Freeze response (our neurobiological responses to threat)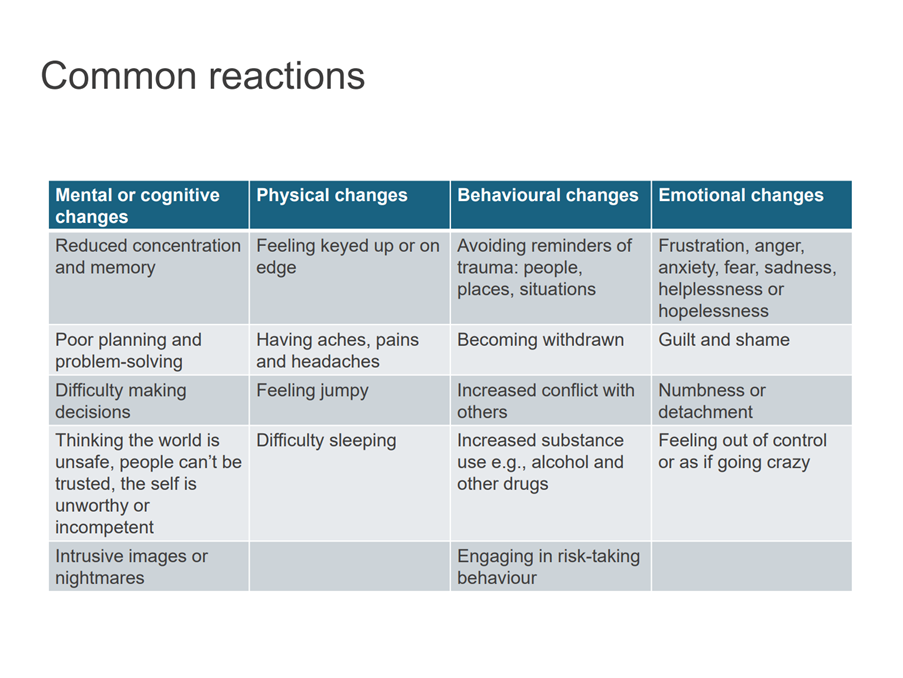 Image: "Common Responses", Pheonix Australia presentation
It's likely that all people will experience these responses, however, for most these will subside over time. However, sometimes we can get stuck in a 'Fight, Flight and Freeze' heightened awareness loop, constantly scanning for danger and being on high alert.
One of the things that puts people at greater risk of this over the long term, is exposure to secondary stressors.
Research has shown that even 10 years after the 2009 bushfires, impacted communities experienced higher rates of mental health disorders, difficulties with schooling and other challenges.
So, what can we do to reduce secondary stressors and support better long-term outcomes for disaster impacted communities?
Here's a few quick tips:
Reduced memory and concentration, as well as difficulty planning and making decisions are common trauma responses. It's important to consider an individual's capacity to engage with complex processes immediately after disaster.
Feeling on edge and avoiding reminders of trauma are also a common trauma responses. We can help by reducing the number of times we ask customers and communities to re-tell their story. We can also avoid asking for unnecessary detail that is not essential to the task.
It's not unusual for people to feel as if they are 'going crazy' and are out of control. We can help by giving people a sense of choice and the opportunity to regain a level of control over their personal situation.
Connectedness is one of the most important protective factors after disaster and energy. Essential service providers play a critical role in repairing the physical infrastructure that enables connectedness by resorting power and phone networks. They also play a key role within physical community spaces, such as emergency recovery and evacuation centres that support physical community connectedness during and immediately after a disaster event.
Key reflection points
During the session, Alex asked participants to reflect on a few simple things that could have big impacts in supporting better personal, organisational and community outcomes. Take a moment to consider…
Where's the opportunity to create a learning loop?
It's essential to share back to enable continuous improvement. Who else in your organisation has a "front-line" role? How can you share learnings, training options and resources with them? 
How can you prepare to support your own 'connectedness' needs?
How can you build the networks you might rely on in a disaster now? What can you do to keep these networks present and familiar, so it feels natural and intuitive to lean on them when you need to?
About this event
This event is part of the Energy Charter's Resilience Community of Practice dedicated to helping customers and communities better prepare, respond and recover from disaster events. 
Every second month, the Energy Charter host a Community of Practice, including expert-led discussions building on the topics covered in the Energy Charter's Disaster Response Playbook:
Communication and Education –

 where do communities get information, how is it delivered and who needs to know? This includes sharing learnings on successful communication and education campaigns as an essential aspect of disaster preparedness, response and recovery.

Coordination and Collaboration –

 what are the opportunities to better work together across the energy sector and within the broader eco-system? This includes better practice case studies on successful collaboration.

Planning and Preparedness –

 what is our role in building community and individual capacity to plan and prepare for a disaster? This includes opportunities to build resilience ownership and literacy within communities, so they can better respond in a disaster.

Learning loops –

 It's essential to share back to enable continuous improvement. This includes sharing insights from recent disaster events and building a resilience learning library.
Learn more on the dedicated Resilience Community of Practice page
here
.